Here comes the day: today I'll tell you about our most favorite children's books. Those, reading which makes us with Newcomer faint from delight. Books that are actively quoted in our family both in Ukrainian and English and are read every day for already a year. I read them for my son in the language which he prefers, I translate them into Ukrainian on the go, which, however, no longer matters: in his 3 the kid knows them by heart in both languages ​​and we still have to fight for the right to "read" them, by heart. No, he's not a prodigy, just a bilingual 😅.
Irishman Chris Haughton creates his characters literally by hand. He first cuts the base out of colored paper and then processes it on a computer. You can feel through the paper that it's handmade. Made with unspeakable love. Chris does entire shows with these characters, he really made them live, and they've even become an integral part of our own lives.
The stories in these books are very simple and edifying, have a light humor, they are taciturn and emphasize on insanely beautiful and rich illustrations. They also exist in different formats, our favorite is cardboard: thick pages of convenient size are perfect for both adult and child, and seem to be durable.
The first book, about – as I call them – dudes who kept planning to catch a bird and experienced failure after failure, I bought, being sold by exalted reviews on Amazon, everyone wrote that their children are in love with this book, and my little one and I weren't any sort of an exception: it was love at first sight and the perfect choice to start reading stories to a baby. At that point I didn't realize that these were a series of books and our love for life.
Later, when I returned to Ukraine, I ordered everything I've found online: a book about a timid crab that went to the big sea for the first time,
about terribly sleepy forest animals who didn't want to play with a little bear, who didn't want to sleep (what a cruel book for an always tired mother, with all those yawns and sighs 😁),
about a dog who promised his owner to be good, and sincerely hoped to be, but… wasn't,
about an owl who lost his mother.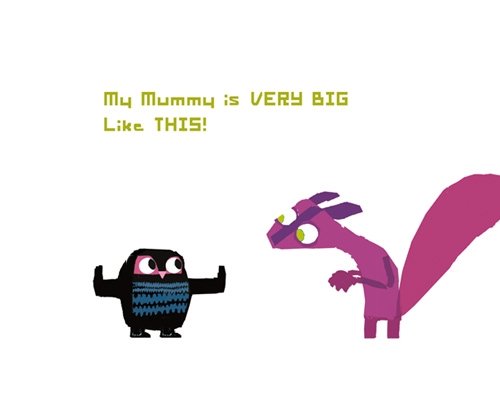 And that's not the whole series, I just didn't find where to buy the rest of them. Incredibly cute stories, and I'm so happy that Newcomer and I own them. I talked to Mr. Chris, contacted the rights holders, and offered the translation to the publisher, along with advertising, and even distribution through my humble blog. I've suggested to really invest in it. But the Ukrainian publisher believes that our consumer just isn't ready for them, lags behind the world even in their aesthetic preferences. Is that so, dear consumer? Maybe you really don't like it? And how about asking the children?