I really liked the idea of ​​Tina Bryson's and Daniel Siegel's book "No-Drama Discipline" about the soundtrack, like before starting solving the situation, make sure to turn off a thriller inside and turn on some pleasant romantic music or something. Or imagine yourself looking at the playground: moskali (a very special type of Russians) scream, kids fight and shout. Nothing special, huh? Now turn on Tarantino's music, bust the air with your fingers, and boldly take the first step – any better? A well-chosen track will solve 90% of our disasters, and if you can't turn it inside, you can do it from outside.
These days, if you don't write about the virus, consider everything's lost, coronavirus, coronavirus, covid-19, google, I'm here, do not strike me out of the book of alive ?.
Coronavirus is a small reminder that we will all die sooner or later, so it's better to immediately review what we are doing, with whom, how, why and so on. People laugh, they say that this is how the nature sends us to the corner to think about our behavior, same as we did in the old days to our children – why not, maybe. Just think about the return of dolphins to the canals of Venice! That there will be no sudden paradise after the end of quarantine is clear, the only thing left to do is to restrict physical contacts, wash hands and confidently spray through your way into the future with the help of at least 70% spirit. Nobody knows how this is going to end up, but did we ever really know what would happen tomorrow? Realise frailty, multiply gratitude, rearrange priorities – not a virus, but pure benefit. There is no sense to panic because it impairs our immunity, reducing our chances of survival.
As for thoughts like whether or not our children will grow up sociopathic, and how to explain to them why they cannot go to the playground, everything is very simple: no, and because it's a quarantine. Let's not forget that we shores and the clarity of the image for our children, and everything will be fine, as long as they have positive and balanced us. And to remain so, we need a little faith that all will be fine and we will go through it. Every crisis is a chance to reformat and see new opportunities, for example, I hope to see the improvement of the quantity and quality of delivery services of groceries, food and anything, in Ukraine it's still at a very weak level.
People have received survival challenges on multiple levels, nature received some rest, children received new games and even more time with adults. Not problems and despair – trials and chances. We recalled hygiene, personal boundaries, learning to survive in loneliness or in tightness, reviewing working conditions more toward a cozy and spacious online, saving the environment, learning to enjoy simple things and being together.
Every crisis is a trigger for progress, even if it takes 400 years, as it did with the plague. The pandemic shakes the pillars on which everything stands, the plague has shaken the medieval brain, awakened medicine, corrupted religion and the feudal order, involved women in the production. The coronavirus is not as scary as the plague, and it's in our unwashed hands, but definitely, it will change something on this planet.
This is not the worst pandemic in the world, and certainly not the worst of our enemies. The most important thing we can do is not to infect ourselves and not to infect others, so it's good to wash our hands and keep social distance. This will slow down the pandemic and give doctors time to help the sick, and scientists – to find a solution.
Here are 2 great visual capitalist infographics: one compares the world's largest pandemics, the other shows infectiousness: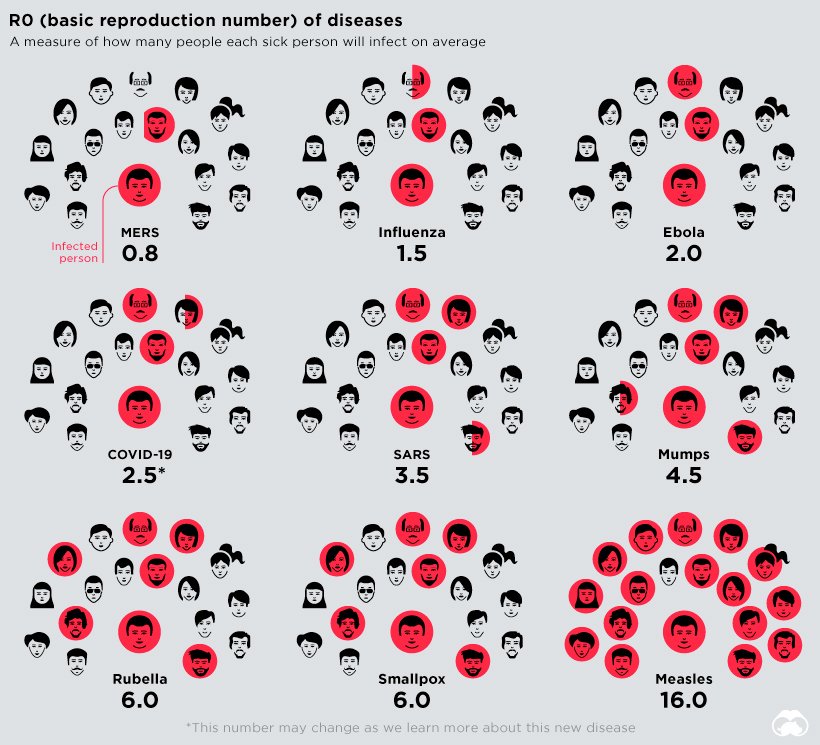 Everyone's situations are different, but here are some ideas that can be done in these difficult times, these are simple and everyday things that we sometimes forget at a difficult time:
keep calm
take the facts into account
do not abuse the online
show sympathy and mutual support
explore opportunities
communicate clearly and kindly
be open and honest
rest
work
plan
meditate
do sports
be creative
take care of others
concentrate on the present.
Stay healthy!